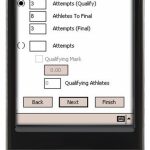 Description
FieldLynx is the world's first handheld computer for field event scoring and administration. With FieldLynx you can connect to LynxPad, or any other compatible meet management software, to obtain a list of competitors in an event, keep track of the order of competition, enter results, score the event, and then upload the results back to your main computer all without anyone retyping any information.
FieldLynx now has the ability to communicate with a range of other devices simultaneously through its single serial port by connecting it to a SeriaLynx unit.
When used with SeriaLynx units a FieldLynx handheld can control a LaserLynx Electronic Distance Measurement device, a compatible wind gauge, and scoreboards or infield displays. By operating the SeriaLynx units on an AirLynx wireless network, the whole communication process can be done wirelessly.