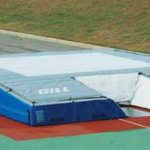 Description
10 Year Warranty
Gill is committed to your Track & Field programs, now and 10 years from now. All our landing systems come with a full 10 year warranty. If any failure occurs in the first 10 years, under normal use and care, we will repair or replace the damaged part. Essentials Line includes 5 year warranty.
REGULATORY COMPLIANCE
2003 NFHS Rule Changes increase safety for the pole vault. Every Gill Landing System meets or exceeds new minimum dimension requirements by the NFHS.
– NFHS Dimentions: 19' 8" wide, 6' 5" behind the vault box, 26" thick
– NCAA Dimensions: 19' 8" wide, 16' 5" behind the vault box, 32" thick.
– Rule 7-4-14 requires a padded vault box collar
PLEASE CALL FOR PRICING