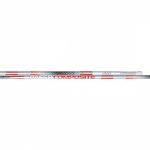 Description
The new Pacer Composite blends proprietary T2-Fiber with carbon fiber and light weight S-Glass to create the next generation pole design for the advanced and technical vaulter. The Pacer Composite utilizes Pacer FXV technology to match the length and flex needs of your series of Pacer poles. This patent pending design achieves a substantially lighter carry weight, increased tensile strength, and superior energy return in a robust and durable composite construction.
Available 13′-16'9″ in 5lb increments.
Pacer Composite is backed by a one year warranty.