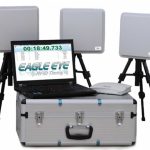 Description
Coaches, race directors and professional timers can now run their own events with easy to use RFID technology at an affordable price.  Compare feature to feature and SAVE THOUSANDS!
Eagle Eye's three antennae standard system provides the reliability Pro timers demand for large events, while giving small operators the simplicity they've been looking for.  The system can also be paired with an unlimited number of readers (read zones) for your custom event or application.
Mounted on portable tripods, the RFID antennas eliminate the need for expensive overhead towers or dangerous ground mats.  Athletes simply run past the finish-line while the timing computer captures the finishers in real-line.  Specialized feature rich software, ranks, splits, scores, etc. and operates your event with efficiency and speed.
The Eagle Eye RFID system is designed to read shoe tags, however can be used in numerous configurations.  Operators can use Eagle Eye brand chips or third party tags to be worn on the shoe, bib or body of the athlete. Our UHF RFID Reader will read dozens of different types of EPC class 1 Gen2 tags (or chips).