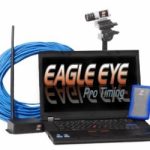 Description
An Industry Revolution
Eagle Eye Pro uses specialized software and high speed camera technology to produce a revolutionary video timing system The result is a versatile 3 in one system that can be used throughout the entire year.
Eagle Eye Pro 100 goes beyond the limitation of older  line-scan systems designed specifically for track and field. Use Pro 100 in the fall for cross country, in the winter and spring for track and field and year around as a high speed video capture and analysis system for athletes of all sports.
Eagle Eye's high speed video is accurate, never distorted and always in view. With a color camera and wireless start and laptop computer as standard equipment Eagle Eye Pro pricing is an industry game-changer.Compare and save thousands!
3 In-ONE. One of a Kind
Track & Field F.A.T. Timing
Cross Country Timing
High Speed Video Analysis
Meets New NCAA Requirements
Save Thousands
An industry First
A True One of a Kind
Amazing New Software
Works with All Starting Shells
Wireless Trigger System